Bamaga Airport
The Northern Peninsula Airport (ABM) is located on Airport Rd, South East of the Bamaga community.
The NPA is accessible all year round, with flights by Regional Express (REX). Please click on link for latest schedule - https://www.rex.com.au/Schedules/default.aspx
Any enquiries regarding air services, including bookings and schedules, can be directed to NPARC's Bamaga office on (07) 4090 4120.
The airstrip is also used for local charters from Weipa, Horn Island and the Torres Strait as well as by the Royal Flying Doctor Service and periodically by the Royal Australian Air Force.
Airport Details
Airport Code: ABM
FlightStats code: ABM
IATA code: ABM
ICAO code: YBAM
Address: Airport Rd, Bamaga QLD 4876.
Latitude / Longitude:
-10.942619 / 142.45033
Airport History
Bamaga Airport was created late 1942, in WWII as a substitute base for bomber planes, replacing the Horn Island Airport which was receiving heavy Japanese fire and rapidly deteriorating due to flooding.
Initially known to the Americans as 'Red Island Point', and as 'Jacky Jacky' to the Australians, it was later renamed to 'Higgins Field', in honour of Flight Lieutenant Brian Hartley Higgins 400620, RAAF, killed in air operations, May 1943.
There are two aircraft wrecks located near the airport, a Beaufort A9-190 Bomber lies North of the runway and a Douglas DC-3, VH-CXD now preserved as a war memorial can be found 3km North-West.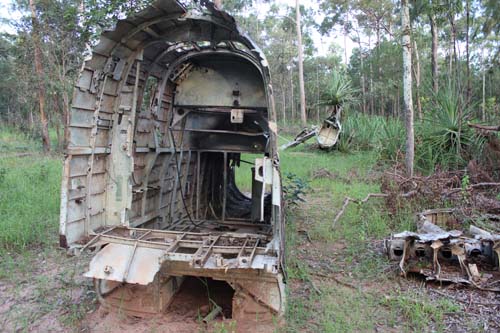 Beaufort Bomber crash site, North of Bamaga Airport