Jardine Ferry
Bookings
For all online bookings, please provide the printed ticket, an email confirmation or if your unable to provide a physical copy, please provide the proof of purchase on a mobile device to the Jardine Ferry roadhouse staff before boarding the ferry.
Opening Hours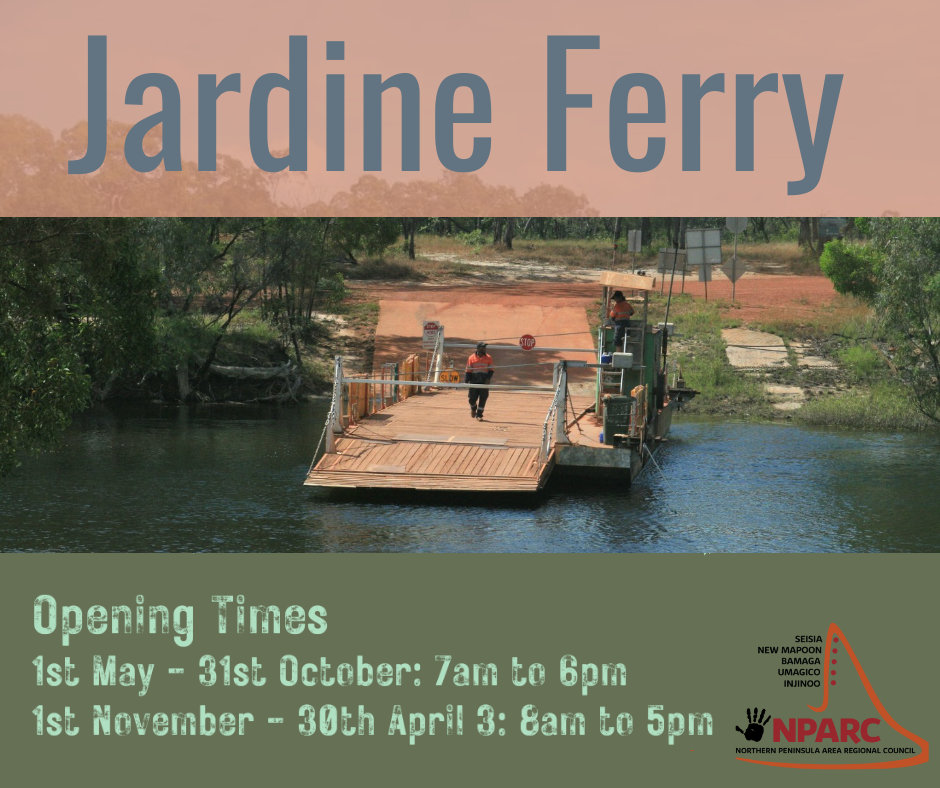 Fees and Charges
Current Fees and Charges can be found in the finance section of Corporate Documents.
Prices includes camping permits in Council Camping Areas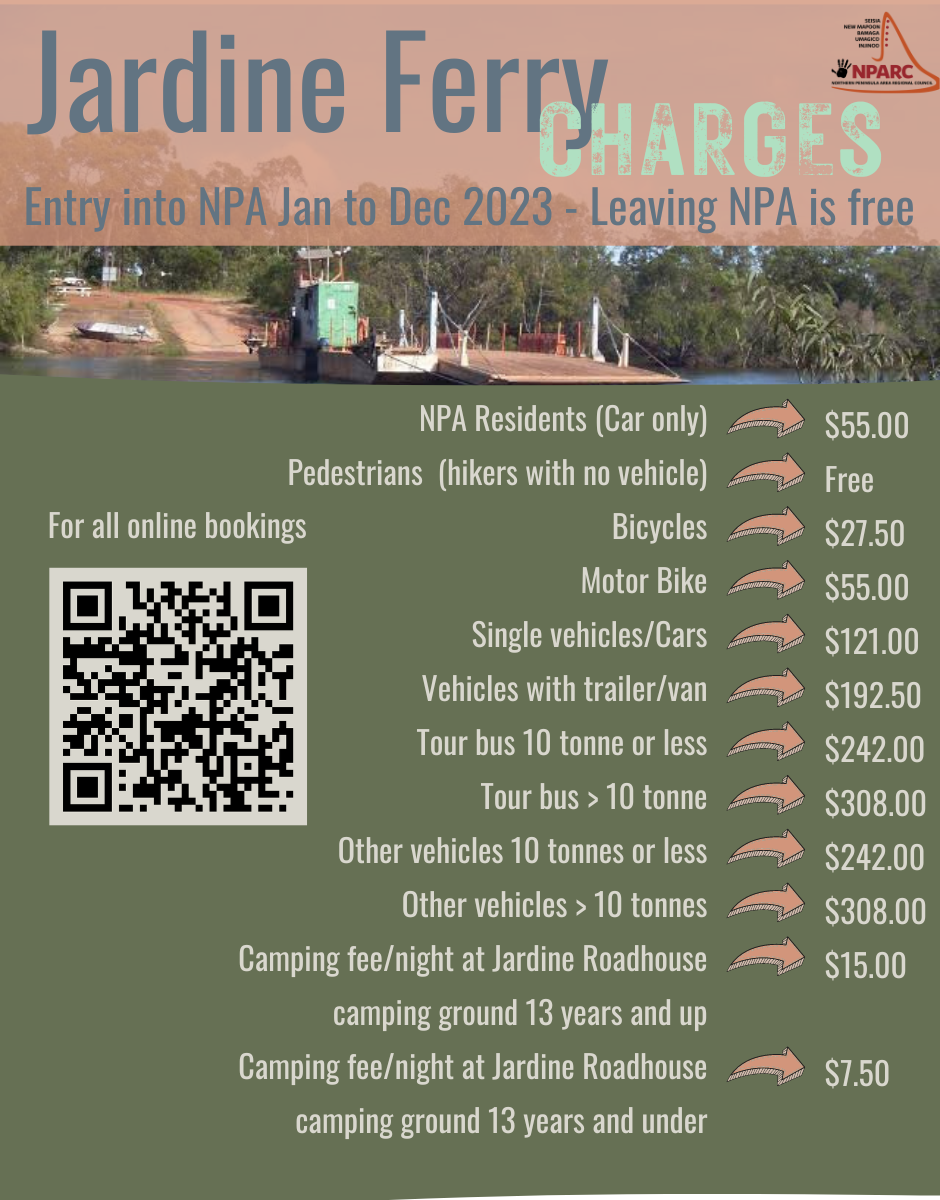 Jardine Ferry Safety Management requires vehicles on the ferry to have motors turned off, be in gear with the handbrake on. All occupants of the vehicle must remain in the vehicle for the safety of all users. CCTV cameras are installed at the Ferry and Roadhouse in the interest of public safety.
During busy times between the months of May - October the Jardine Ferry can have significant delays due to the large amount of travellers. Please make sure you arrive at the ferry by 4pm.
Some days the Ferry crew break between 12noon & 1pm. Please note that fuel is not currently available at the Ferry Service Station, next fuel north of Ferry is approx 50kms at either Injinoo, Seisia or Bamaga.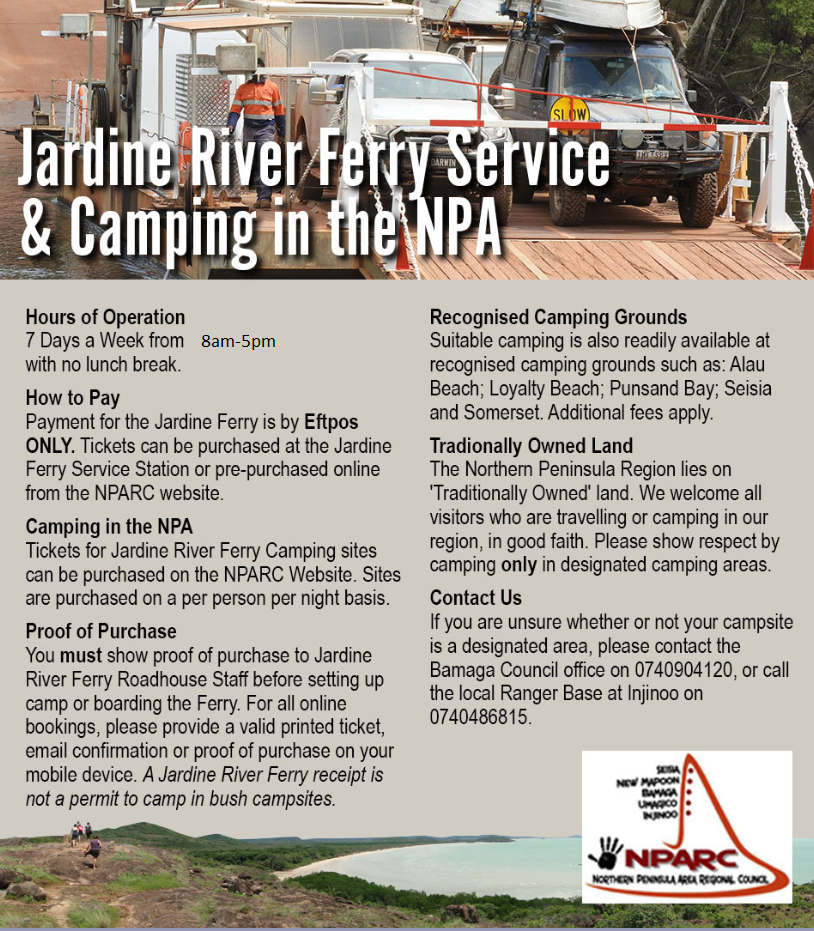 Queensland wet season information
The wet season, commonly referred to as 'The Wet', is an annual weather event occurring generally between the months of November and April. The Wet affects tropical areas in central and north Queensland. During this season, these regions can experience heavy rainfall, sometimes causing flooding and/or land slips, which can isolate communities, industries and travellers. As a result of this flooding, roads can be affected by being cut off or washed away. Roads that have been flooded must be carefully managed. To do this, road closures, load restrictions and traffic management may be implemented to protect the road asset and balance access for communities and industries. Main Roads provides regular updates to RACQ about road conditions on the network in Queensland.
This information is available via the RACQ website or by phoning 1300 130 595.
For more important up to date information visit Main Roads Website or BOM Website for river heights.